Shop the LoveIt. OwnIt collections
our customers love these - we think you will too
---
SEE IT. WANT IT. LOVE IT. OWN IT
We think you'll LOVE our collection of acrylic interiors and homeware. Be inspired by our UK-made acrylic coffee tables, acrylic nest of tables and acrylic side tables - the perfect finishing touch in any interior (or exterior). Our acrylic coffee tables collections are made by us at our UK workshops - you wont find better quality or value on the whole wide internet. Plus checkout our funky homeware - from smart acrylic magazine racks to the cutest desk tidy range EVER.
OUR LATEST NEWS, VIEWS AND INTERVIEWS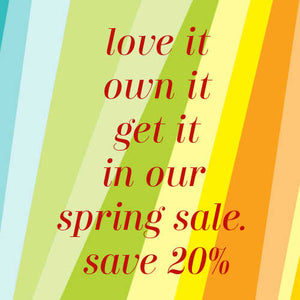 OUR ETSY SHOP SPRING SALE IS LIVE
Save BIG on selected tables & homeware ONLY in our Etsy store
Click here to start saving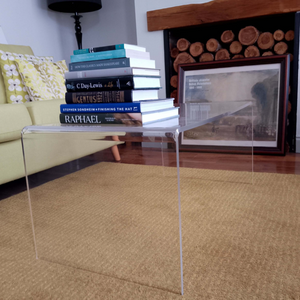 PERFECT FOR COFFEE TABLE BOOKS
Our acrylic coffee tables provide a sleek  look that complements your coffee table books.
CHECK OUT THE RANGE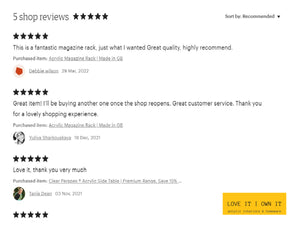 5 STAR CUSTOMER REVIEWS
We're loving our customer feedback
READ OUR LATEST REVIEWS
Hand Finished For Your Home